Friday, February 9th, 2018: "This is what you deserve. You could be good today, but instead you choose tomorrow."
February 8, 2018
Warm-up:
10 box jumps
10 OH squats
10 situps
10 t2b
10 front squats
10 strict press
STRENGTH-
OHS
6×2 @90-95%
WOD
"Heater"
2mins at each station
For Reps:
Cal Row
SDHP 75/55
C2B pullups
KB Swings 2/1.5
Thrusters 75/55
Box Jumps 30/24
Blog:
"This is what you deserve. You could be good today, but instead you choose tomorrow." – Marcus Aurelius, Meditations
I was 19 when I first read that quote. And in my naivety (ignorance?) I interpreted it to mean that You deserve success.
That isn't what Aurelius meant. Like, at all.
What he really meant was this: Everything that happens to you – good or bad – is your fault.
Or, at the least, everything that happens to you is your responsibility.
Now, don't get me wrong. Things happen, often terrible things, that are outside of your control and absolutely not your fault. But, the point still stands: The moment you begin to take responsibility for everything in your life, that's the moment you can start to make a change.
But if you relinquish that responsibility to your genetics, or your lot in life, or a myriad of other reasons I can't be bothered to type – nothing is going to happen.
To prevent me from turning into Tony fucking Robbins and keep this fitness related, here's what this means:
– If you're unhappy with your body and health right now. Not only is it down to you to make a change, it's your *responsibility* to make that change.
And the first step to doing that is to stop believing your own bullshit.
As my client Faiz said, "It was actually just a moment of clarity – when you own up to your shit and take some initiative, you can pretty much achieve whatever you want. When you can face your own fuck ups then you can tame yourself." 
Oh. And here's Faiz totally crushing his fat loss. NBD.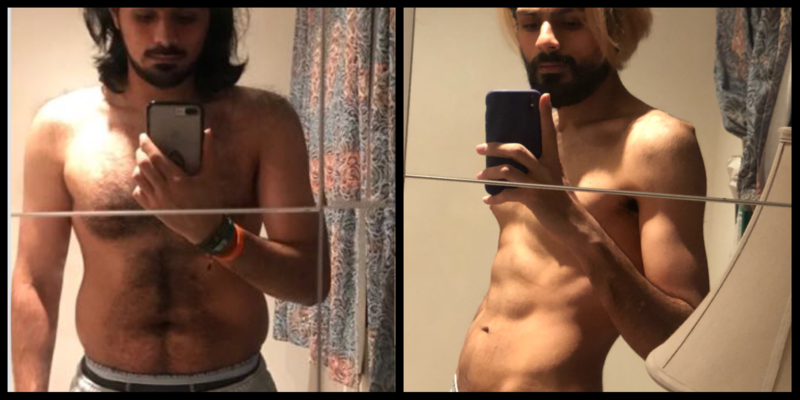 If you're walking around lamenting how you can't lose fat or build muscle because you've always struggled with your weight or you're just 'the skinny guy/gal' and well, that's that.
Fuck you. Have you even tried to make a change? Have you even bothered to take stock of your behaviours and get to the root of why you feel like that?
No? Of course you haven't, wanna know why? Because it's painful.
It's painful to admit that you're fucking up, but, it's even more painful to admit that you're fucking up because of you.
AND BOY, DOES THAT HURT. Realising that you're not as super-duper awesome as you thought you were cuts deep. But it's the price you pay for deciding to make a change.
But, listen: It's infinitely better to suffer a small blow to your ego now and use that as a corrective to fix things before they become overwhelmingly bad, instead of continuing to live in wilful ignorance only to one day end up at a point where it's too late to change.
– Your boy, Aadam